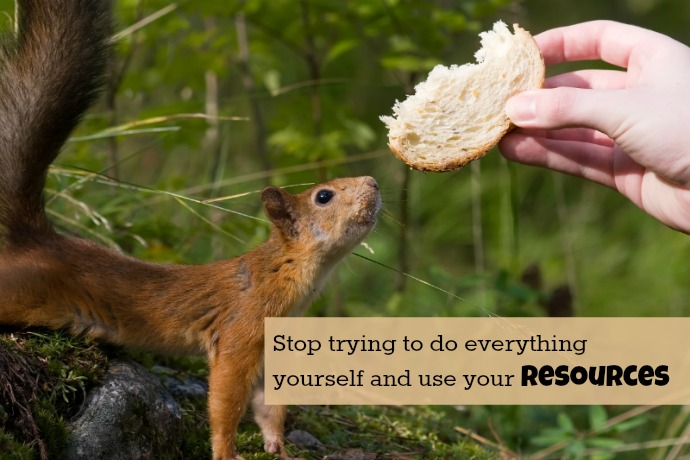 I'm going to be straight with you: stop trying to do everything yourself.
You know who you are: In an effort to "save money," you sign up for every DIY course under the sun, thinking you're going to have time to: perfect your writing, code your website, design your flyers, and everything else you need to do to run your business or promote your message. In addition to, you know, doing your actual work.
There's definitely a time and a place to go it alone. Heck, I offer a self-study digital program that enables you to put together a clear, crisp brand strategy on your own – and folks love it. But savvy business people also know that no one can be an expert in everything. Why should you be, when there are fabulous resources out there? Not to mention that there are just certain things you may enjoy, like writing your blog or designing your materials, and some things that make you want to poke your eye out because it will take you three times as long to be half as good. Time better spent on the real, revenue-generating value you offer, whether that's making your custom jewelry designs, working with paying clients or writing your next novel.
Folks often ask me for referrals, which I love to provide. This is not a zero-sum game. If someone helps me be successful, my responsibility is to mentor and share to help you, too.
If we can't share our resources to lift everyone up, why are we even doing this "entrepreneurship" thing? (Tweet this!)
Enjoy my Hot List of 9 ridiculously talented people that will help your biz + brand shine bright. And yes, they are all women (#girlpower). You're welcome.
Norma Maxwell of Connect Interactive. My website shaman. She has designed and built outrageously on-brand websites for me as well as many of my clients. She's the genius behind my recent website facelift! Norma gets that your website is not just about good looks, but that it should speak to your target audience and represent your brand well – plus ensure a great user experience to achieve your goals.
Sarah Von Bargen: Sarah and I are long-time partners for many of my clients. She is the writing genius behind my SLICE Sessions. She loves to ghostwrite blog posts or eBooks – and she's amazing at articulating your unique brand in a way that gets people excited and engaged. She has written a lot of great stuff for me over the years.
Tammy Martin of Martin Marketing: Tammy is a Facebook marketing expert for savvy soulful entrepreneurs. And not just about Facebook ads per se but how to use them to build a true sales funnel and lead your prospects down the path to purchase. She'll help you build your following, your email list and generate crucial traffic back to your site – all while setting up both your ads and your unique landing pages, dealing with all the technology behind-the-scenes, installing all tracking pixels to make sure it's working, and tweaking as needed. We had great results working together and I'm eager to work with her on more!
Alison Monday of Tiny Blue Orange: Alison is my website wizard and guardian. She is a designer and developer and ensures your site looks good and stays safe (she's a techie at heart and is all about security, uptime, and performance). She helps me create pages, improve layout and has designed promotional JPG's for me. She has also helped some of my clients build wonderful websites that required sophisticated back-end complexity and unique imagery.
Sandy Jones-Kaminski of Bella Domain Media: Sandy is a networking maven and LinkedIn ninja. She combines her expertise in how to network online or offline with her vast knowledge of how to use LinkedIn to generate leads, find connections, and get found by the folks who matter most. She has all kinds of social selling and networking tips and tricks that will change your business.
Anne Watson Barber of Almond Tree Social: Anne specializes in helping her clients boost the ROI of their websites via SEO, paid marketing campaigns, Infusionsoft eMarketing and other tools. As a Search Engine Marketing manager, she focuses on boosting conversions and traffic for large, complex websites. Fun fact: She was a News Editor for Wall Street Journal online before going freelance.
Social Media Gurus: These talented experts have been behind the scenes of some killer brands ranging from authors to consultants to restaurants and can help you develop a practical and powerful social media plan – and even ghostwrite and manage pages for you.
Karen Rosenzweig of One Smart Cookie Marketing
Tracey Warren of Ready, Set, Grow Marketing
And if you need a dynamic speaker to motivate your marketing team, liven up your next business event or inspire conference attendees into action, you can always enjoy my unique blend of branding and inspirational wit and wisdom but please check out these other fabulous folks as they are gifted presenters on their specific topics. Bookmark this post for when you need to find an amazing speaker for your next event.
Image Credit: Tomi Tapio K via Flickr