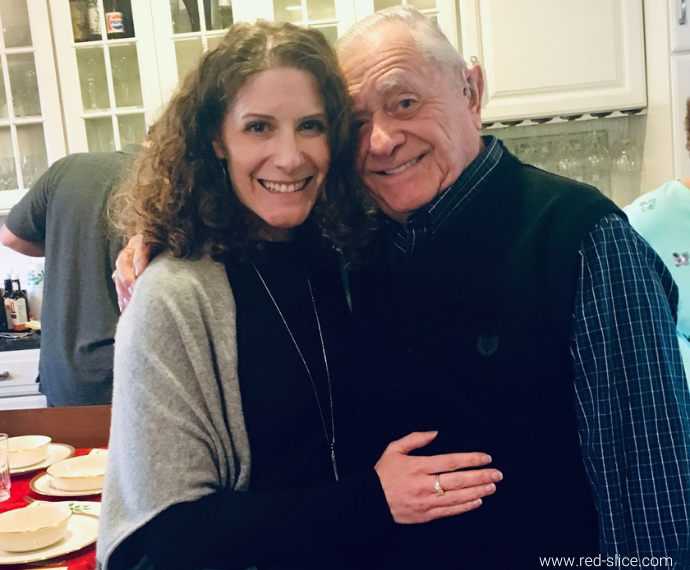 My dad, Joseph Piccininni, passed away at 93 years young at the beginning of July. He fought a ridiculously brave fight, constantly getting up again after heart issues, bladder cancer, kidney cancer, and more. One thing you never did with my dad was count him out!
For those who knew him, my dad LOVED a party. Quick with a joke, smile, and cocktail, he loved being around friends and family more than anything, never wanting to miss out. When we were planning my wedding, he said, "Make sure we have a fully stocked, open bar for our guests!"
Dad was married to my mom for 62 years before she passed away in 2016. He worked hard his whole life and was one of my earliest influences on having a strong work ethic. He was a butcher and in the auto wrecking business. among other things, before earning his college degree in night school while raising three young sons with my mom (I came along later) to become an engineer, which he was for more than 30 years. Dad even kept working into his 80's, at the local butcher counter and as an Ohio State stadium usher! He loved designing and building things (structurally sound, but aesthetics could be better!) He built out the attic of our childhood home into a 2nd floor, designed and built a few sheds, decks, and even built our summer house in Mastic Beach, NY.
Dad served our country in the Korean War – and was always happy to share the story of that time he and his Army buddies attended a Hollywood party at Rosemary Clooney's house in L.A.!
My dad taught me so many lessons about integrity, inclusivity, and happiness – lessons that have helped me succeed my whole life and into my entrepreneurial journey. He welcomed everyone into his home – our friends, neighbors, workmates. His zest for life was palpable. He taught me that age is just a number and you are only as old as you act or feel. "Appreciate your age, Maria. In 10 years time, you'll wish you were the age you are now, so always enjoy it!"
Dad wrote me a six page letter when I went off to college – and told me it would be the last such letter he'd ever write to me. In it, he shared how proud he was of me, and gave me all sorts of advice for life: Honor yourself and your integrity. Work hard and honestly at whatever you do. Surround yourself with good people and friends. Never lose sight of who you are and the generations who came before you. And to enjoy every single second of college – and life.
As a kid, it was my dad who helped me (unwillingly) learn to not care what other people think. He always loved embarrassing us kids in public! Usually, it involved singing loudly in a parking lot or doing something goofy in front of our friends! He loved turning almost anything into a song – grocery shopping, trash collecting. Dad also had a strange fascination with cheesy 80's music, in addition to his love of the Rat Pack and Big Band era. He often sang "I Just Called to Say I Love You" when he'd phone me up.
Luckily, my son and I got back from our London vacation in time to say goodbye to my dad before he passed away. He was unresponsive but he knew we were there. Every now and then he'd open his eyes and nod. We played his favorite Rat Pack music for him. We kissed him goodbye. We left that first night and I just knew in my heart he had seen all of us and could now leave in peace. He passed away the following morning.
My dad taught me how to love life, how to welcome people into my home, how to work hard, how to live adventurously yet also with integrity. And in his own way, he taught me valuable lessons about what choices not to make, and I'm equally grateful for those. I love that I got to speak to him a few days before he died, by video, when we were both able to say Ï love you" to each other.
Who influences you? From whom have you learned valuable lessons? It could be a parent or another role model. It's a great idea to take stock on the lessons that person has taught you and how it influences your everyday life and action. In the end, who made you who you are?