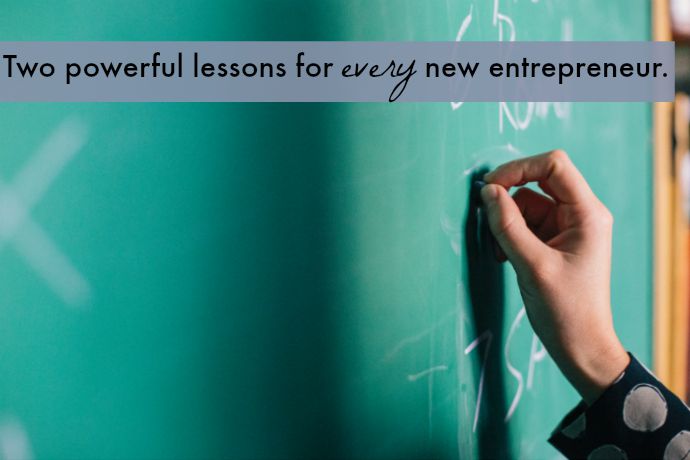 A wise mentor sits with a serene smile, staring into the bright eyes of the eager protégée. She wraps her arm around the fresh young person and whispers, "Everything is going to be alright. Here's all you really need to know…"

I'm going to bet that was not your experience when embarking on entrepreneurship or self-employment. If you're like me, it felt more like getting shoved into a deep ocean. Some days, the current drifts you to new islands and opportunities. Other days, you flail in the choppy waves, praying for a lifeline. One day, the seas are calm and effortless. The next day, the waves pound you over and over again into the hard sand.
After leaving the safe harbor of a successful corporate life in 2008, I was fortunate enough to find resources and mentors who helped me along my journey. Some drifted in and out like a passing life raft, right when I needed them most. Others joined me on my journey and never left my side: mentors and collaborators whom I treasure for their insights.
These amazing humans – and the many years I've now been out on my own – have taught me so much. And by "so much," I mean answering questions I never knew I should have ("What the heck is "use tax?") and preparing me for situations I could have never seen coming even with high-powered binoculars (a clear contract doesn't protect you from a nightmare client who signs it without reading it). It doesn't matter how many books you read or classes you take. Until you're in it, there's so much you don't even know you don't know.
And that's a good thing. Otherwise, most of us wouldn't do it!
Here are two of the biggest lessons from my entrepreneurial experience thus far. Please note: I have a long way to go and a whole lot more to learn.
But when you get so far down a certain trail, it's your duty and responsibility to reach your hand back and shepherd those traveling with you. Leave no man or woman behind, I say. (Tweet this!)
Lesson #1: Opportunity favors those who prepare.
While I had a very successful corporate marketing career, I dreamed of doing my own thing and enjoying more flexibility to pursue other passions, like writing and acting. Red Slice started as a personal blog full of whimsical wine, film and cultural musings. It then became a business website I would tinker with on the side as I dreamed, "If I worked for myself, how would I position my services? What message would I want to convey? What brand would I build?" In 2008, when the writing was on the wall and my last tech company laid off the marketing department in prep for a sale, opportunity knocked­–and I was ready. I flipped the switch on that hidden website and Red Slice as a brand consultancy was born.
Lesson #2: Don't worry about the how so much as the what and why. The how will find you (or you will find it) when the time is right. Just take action and keep moving forward.
The road was not always easy. Maybe you can relate?! I am often still unsure of what the hell I'm doing. But amazingly enough, once you start down the path to what you want and put it out there, all of the sudden an advisor, article, connection or opportunity will magically appear right when you need it most.
When I craved more strategy work and less tactical project work and didn't know how to free up my time to go after it, a friend offered her coaching services to me, leading to my signature offerings still popular today.
When I needed a new accountant, a successful entrepreneur recommended hers – and I've happily been with that firm ever since.
When I desperately needed a fresh creative writer for my client work, a colleague launched a website that week with the most brilliant copy I'd ever read and I immediately contacted the writer she hired, which led to not one, but two fruitful writing partnerships that are the cornerstone of my work.
When a publishing agent got interested in my book idea and asked to see a "formal proposal" I had no idea what that was but said "Sure, I'll send you one!" As if on cue, my good friend told me she happened to enroll in a proposal writing class starting the very next week so I jumped in and joined her.
When I was truly overwhelmed by my work and life right after my brain injury, I decided to just take it day by day and start small, by sponsoring a marketing event. At that event, I happened to meet a "stress coach" and started working with her within the month to get myself unstuck and moving forward.
When I decided to self-publish my second book and had no idea where to begin, I just started writing it and figured it would all work out. I then remembered a virtual assistant who I had interviewed the year before to help with marketing my first book. She is now my self-publishing angel and handles everything for me.
There are so many more examples I could give you. Somehow, someway, the right people just enter your life at just the right time. Or you read an article that tells you about the exact solution to the challenge you are facing.
Got your own words of wisdom? Please share with us on the Facebook page or Tweet me!