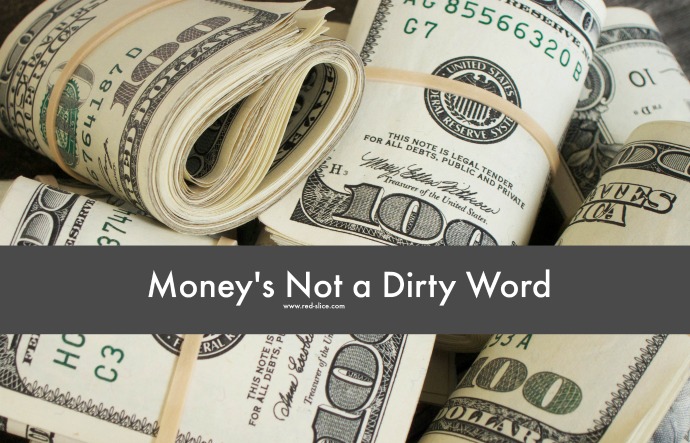 Please run, don't walk and see the film Equity if you can. It's on limited release, fresh off of Sundance Film Festival. The writer is a dear friend of a dear friend but that's not why it's a great movie. It's a financial thriller billed as "the first female-driven Wall Street film."
The movie opens on our successful investment banker heroine, speaking on a panel to ambitious young women. She's asked, "What makes you get up in the morning?" Smiling, she says, "I think the simplest answer is, I like money."
She goes on to say, "I am so glad that it's finally acceptable for women to talk about success."
YES!
But whether you're female or male, the point here is that you run a business. Ergo it needs to make money, or it's just a hobby. Hobbies are totally awesome. Just stop calling them businesses.
And it's acceptable to want to make a living doing what you love.
Passion and profit (or as I like to always say, cash flow and creativity, are not mutually exclusive (Tweet this!)
In almost 9 years (eek!) of consulting, I have seen too many brilliant and passionate entrepreneurs completely fall apart when the M-word comes up. They set their prices too low. They don't know what metrics to track or how to set budgets. They lose money on projects, just to be nice and serve others. They have no idea what cash flow means.
Now, this is all from the gal who HATES numbers, ran up over $30K in credit card debt in my late 20's and who pays big money every year to let my accountant worry about taxes because the IRS terrifies me.
But what I know as a brand strategist is that one of the most important brand decisions you can make is price. It creates a value impression,  defines who you will attract and symbolizes where you play in the market.
Money is not a dirty word! It enables you to do more good in the world and have more impact. 
Whether you're a coach, consultant, boutique owner or massage therapist, pricing right is the key to financial success. But how do you decide? Where do you start? How do you know if you'll meet your financial goals? What metrics should you care about?
Well, I'm so glad you asked….this topic is so important, I'm hosting a FREE teleseminar on November 16 with my good friend,  cash flow efficiency expert and business coach Debbie Page Whitlock.
How to Price Right + Conquer Cash Flow
A FREE teleseminar to help you with pricing, budgeting, cash flow…and all the other financial stuff you hate!
Wednesday November 16, 2016
11 am to Noon Pacific Time/2 to 3 pm Eastern Time
During this free (+ fun) jam session, you will finally discover:
Why brand success and pricing go hand-in-hand
How to set prices for your offerings to attract the right people
How to set realistic budgets and yearly financial goals
What are the Five Financial Factors you need to increase revenue and profit in your business. HINT: Focusing on small adjustments here can have a big impact!
How to understand cash flow and make it easy
Debbie is equally as feisty and tough-love as me, so you KNOW this is going to be a great training.
Register now and reserve your spot. Can't wait to "see" you on the line!
Image Credit via Flickr