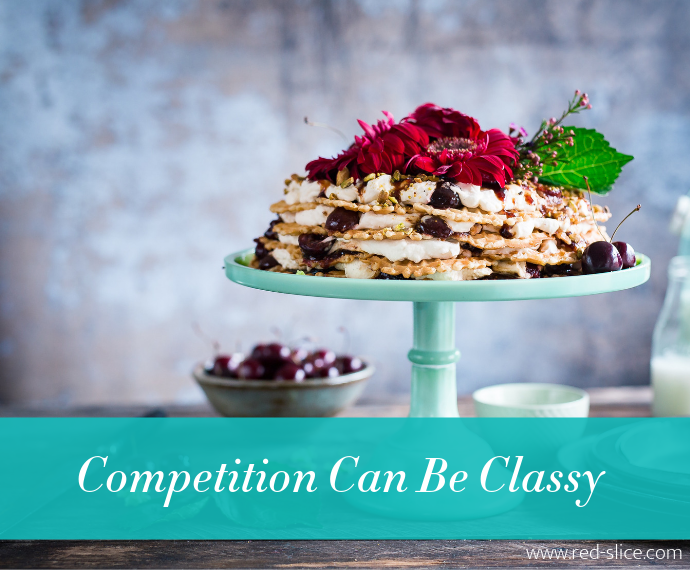 When the world is too much for me and politics, current events, work or just plain mean people are getting me down, I seek peace and joy in baking.

Well, not literally. I mean The Great British Baking Show.

It was once called The Great British Bake Off but a trademark issue with Pillsbury forced it to change names when it came over from the UK to the States. Perhaps you've caught a bit of it with initial judges Paul Hollywood and Mary Berry (best names ever), and then later with Paul and new sidekick Pru Leith – all well-respected, famous fixtures on the British baking and cooking scene. And the hilarious hosts (for comic relief) who narrate the happenings and in equal parts tease/encourage the contestants.

Why do I love this show? Not just the ridiculously amazing creations these amateur cooks make, from patisserie to scrumptious fruit pies, to ornate wedding cakes, to savory pasties and mouth-watering crunchy breads.

The show is a competition. And it's beautiful and glorious.

And apparently, I'm not alone. No backstabbing. No diva drama. No ruthless camera asides when their fellow competitors are not watching.

Just a group of ambitious people doing what they love, and making sure they show their very, very best.

Some will help each other when things go wrong. Others will provide a little advice to someone who is not quite sure of the end result (this often happens with the technical challenge, where contestants have no idea what they'll be asked to make.) One episode even found an ICU physician bandaging up a fellow contestant who had sliced his finger with a sharp knife.

This is how classy competition can be.

You can be classy and still want to win. (TWEET THIS!)
No one needs to tear anyone else down to build themselves down. They let the creations speak for themselves. And they celebrate each others successes, often giving a little wink or silent cheer when another person's work is judged well by the experienced hosts.

And, more importantly, all this compassion and support does not mean each contestant does not want to win. Some of them are very competitive.

Forget ugly American reality TV shows (except The Voice, which I think does a similar nice job with this). People can be supportive and ambitious. Kind and competitive. They can learn from each other and celebrate their successes.

We just need to change the script that defines competitive success.

More articles you may like on how to change the way we look at "competition":

How to Understand Your Competitors Without Falling into a Jealousy TrapWhat Are Your Competitors Secrets? Here's How to Find Out