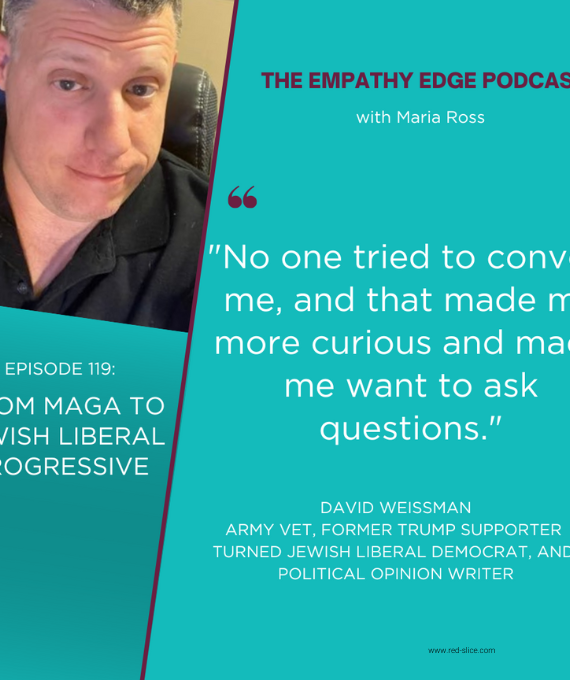 Can we ever bridge our political divides here in the US? Every day, things seem to get worse. We argue over guns, abortion, civil rights, and whether removing state secrets from the White House and locking them in your safe at home constitutes a crime.
But what would happen if people on both sides could engage in meaningful dialogue? What if we all took personal responsibility to spot the lies by getting curious and doing our homework?
Recently on The Empathy Edge podcast, I got to talk to a Twitter influencer I've been following for some time now, David Weissman. David and I discuss his story and how he grew up only consuming Conservative information and assumed it was all true. How we believed Democrats were trying to hurt this country and the shared values that attracted him to Trump's campaign in 2016. David talks about how one Twitter conversation with actress and comedian Sarah Silverman sparked his curiosity to dig deeper into the Constitution and pundit claims, where he realized how many fear-based lies he had been told. Having stood in both camps, I ask him what we should know about why the Conservative message resonates with people, and how he thinks we can find common ground one empathetic conversation at a time.
Key Takeaways:
✔️Kindness and civil conversation will go further than name-calling or mudslinging ever will, regardless of which side of the conversational divide you are on.
✔️The magic of empathy is that if we can really deeply listen and understand that we can deeply listen without agreeing with each other, initially, we can at least have a conversation.
✔️People will not always change what they believe even when faced with facts. They have to be willing to change, do their own research, and see things from a different perspective.
TUNE 🎧 IN HERE: https://bit.ly/3f6tn4h
And remember, wherever you are…VOTE! Make your voice heard.
Check out more great guests and conversations about all aspects of empathy on The Empathy Edge podcast. Right here or find it on your favorite podcast player.
More you might like:
Mónica Guzmán: How to Have Fearlessly Curious Conversations in Divide Political Times
Jonni and Maria Go There! Podcast: What the Hell is the Patriarchy?