Brand Story Breakthrough
Get Your Story Straight to Attract More of Your Ideal Clients and Amplify Your Impact!
A 5 week sprint to craft the perfect brand and marketing messaging that gets attention and ignites sales!
The course is currently closed! Please join the waitlist and be the first to find out when the next cohort starts.
When you talk about your business, do people say, "I need THAT"?
If your marketing messages just aren't attracting as many of your ideal customers as you know they should be, you're in the right place. You're amazing at what you do, your business offers tremendous value, and yet….crickets.
Does it feel like no one knows who you are or the value of what you do?
Or worse, the wrong people are showing up at your door. Prospects who won't pay what you're worth, can't make the most of your offerings, or worse, suck your energy dry.
"My problem is, I know I could get the right customers if I could nail how to talk about this thing!"
You know what you do well, but figuring out how to talk about it and market it can be overwhelming.
And, if you don't get this messaging right, it can stall your business and even make you question your own decisions.
The enemy here? Fact-led Storytelling
The solution? Empathy-led Storytelling
Facts are not bad! We all want to be truthful and ethical in our marketing, of course. But facts don't tell the whole story and often alone, don't sell. We are human beings and we buy based on both logic and emotion. This is fact, proven by decades of behavioral economics research. Even if people claim they only buy based on logic, they simply do not.
People want to be moved. They want to be inspired, delighted, and, most of all, seen, heard, and understood.
And you can do this if you follow a proven process to better understand your ideal customers – and yourself and your business – so you can speak their language, explain your unique value in a way they can't resist, and move them into action.
Empathy helps your customers feel like you're inside their heads, reading their minds, and offering just the solution they need RIGHT NOW!
When you engage with empathy, the right customers immediately connect with your message. They want to understand who you are, why your business exists, how you think, and how you can help them in a way no one else can.
It's time to leverage empathy to inform your breakthrough brand story. And marketing your business will be more fun, getting more customers to notice you, engage with you, and WORK with you!
Your instructor, Maria Ross, has been seen in…

It's Time to Get the Attention You Deserve!
Sometimes your story doesn't work because it's too product-focused or confusing. Other times it's because your business has evolved and there are so many things you could say about what you do, but you don't know which one is right. If you want your messaging to hit a nerve, you have to get to the heart of the problem and see it through the lens of your customer.
Empathy at the heart of your brand story is the key to attracting the right audience.
When you understand your customers' goals, fears, values, and aspirations – when you truly see the world from their perspective, they feel like you "get" them. That leads them to trust you and want to be part of your community.
Speaking in their language connects them to your brand and makes their decision to buy from you super easy. They see themselves in what you offer and they want to be part of your community.
Your customer will strongly identify with you if you demonstrate empathy for their needs, situation, and experience. You will no longer need to chase them; they will chase YOU.
Picture yourself scrolling through social media or browsing a website and stopping on a brand or business that catches your eye. How did you connect? What did it feel like to get a tingle down your spine, like, "Oh, this is speaking to ME!"
Their story captured your heart and mind on both a logical and emotional level and probably made you:
1
Believe in yourself and see yourself achieving your goals with their offerings
2
Subscribe to their community and become a raving fan.
3
Hire or buy from them. And tell your friends about your new find.
This is how it's worked for thousands of my clients and students when they finally got clear and found their own unique Brand Story Breakthrough! It transformed how they marketed themselves and turned sales from something icky into an easy conversation.
Who is this course for?
The course is for business owners, entrepreneurs, coaches, consultants, freelancers, agency owners and corporate marketers who have a sound business model but want to scale their message and consistently fill their pipeline with more right-fit clients. And it's for marketing or PR consultants to help their own clients develop a strong brand!
Who is this course NOT for?
This is not for those who love writing for the sake of writing, chasing the next shiny marketing tactic, or following scattered approaches to sales and marketing. It's for those who want a firm story foundation to guide all their sales and marketing and clearly and consistently grab attention and stand out.
Empathy-led Storytelling Attracts the Right Clients So You Can….
Create a breakthrough story for your brand.
Once you get your story straight, you'll exponentially connect more of the right people with a repeatable, sustainable, and shareable message. You give your biggest fans a memorable script so they can easily repeat it over and over again to everyone they know.
Take the course and get a scalable pitch and story that connects!
Join me for my 5-week Breakthrough Brand Story course to transform your brand strategy, story and business results. You get videos and worksheets to complete on your own time, paired with, live weekly coaching calls – plus extra sparkle and polish on your work.
By the end, you will have a brand strategy and story that stands out, accelerating your revenue and impact. You'll clearly understand the goals and desires driving your customers. What they want. What they need. Why they need it. You will better attract and convert the right clients to build a healthy business.
The better questions you ask, the better the breakthrough you'll have on the story to tell to authentically connect with the right people.
And they all center around three core questions. But many business owners and marketers want to skip this step and that's how they get to boring, me-too messaging that doesn't inspire or delight anyone.
Don't make that mistake!
Join now and I'll guide you with all the right prompts and questions to pull that story out of you so you can share it with the world:
How do I connect?
Know you. Know your customer. And know how to put them together.
Define what you want to do most. State your Why. And build your manifesto
Listen up and listen in on your customers to understand their situation, what matters most, and why it's important
Build ideal profiles so you can see the person behind the problem
How am I different?
Audit yourself. Spy on the competition. Define your strengths, assets, and preferences.
Conduct easy competitive analysis
Surface your brand attributes
Know how to position your "different"
How do I say it?
Put it all together in a Messaging House
Craft your own positioning line
Create a brand promise that states the value you provide and why it matters
Write an origin story that captivates the right people who can't wait to work with you
---
"I sometimes get sidetracked with details instead of focusing on the big picture and strategy. This program was the jumpstart to refocus on the right messaging to move my business forward. I loved the digital content, playbooks, and short videos. Easy to watch and think about. This investment into my company's growth was absolutely worth it. It forced me to be present and learn from Maria and others in the class!"
Emilia D'Anzica
Founder and Managing Partner, Growth Molecules
---
The Value You'll Get!
You'll walk away from this course with a clear and compelling brand strategy and story, so you can achieve your goals. You'll have the foundation you need to make all your marketing efforts click and easily flow!
You'll develop a profound understanding of your purpose, your customers, and how they align so you can have real impact on real lives. Gain the focus, clarity, and confidence you need to get to the next level and make your work matter.
Specific deliverables:
Brand Strategy and Story – The solid foundation that guides all your marketing, content, and so you can stand out and close more deals.
Core Value Proposition – Memorably and clearly communicate what you do, who you serve, and why it matters to them. (And turn it into a killer elevator pitch!)
Ideal Client Profiles – Guide all your copy and content so you instantly captivate the exact people you want to serve.
Website Content – Craft your mission, vision, values and website About, Page and Manifesto so visitors clearly understand why working with you is the right choice. And fall in love with your work all over again!
Social Media Profiles – Shine online and build your influence, reputation, and brand. Consistency is key, and you will have all the tools in your toolkit to easily shine.
---
The course is currently closed! Please join the waitlist and be the first to find out when the next cohort starts.
What business owners say about Maria.
"I really wish I had done this earlier with Maria…it's one of the best things you can do for your business!"
Guy Bauer
Umault Video Marketing
"We reshaped and aligned our pitch. It was a game-changer for our business. We now have a focused marketing game plan to help us with our business goals."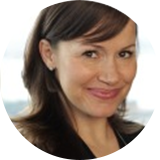 Suzanne Paxton
Co-Founder/Executive Producer, Point Studio
"Maria deftly coaxes clients out of their branding "safety zone," and into a brave new world of captivating language, clear-cut positioning, and compelling storytelling."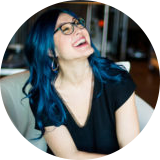 Alexandra Franzen
Copywriter, Founder
Get It Done
---
The Empathy Edge
Brand Story Breakthrough Workshop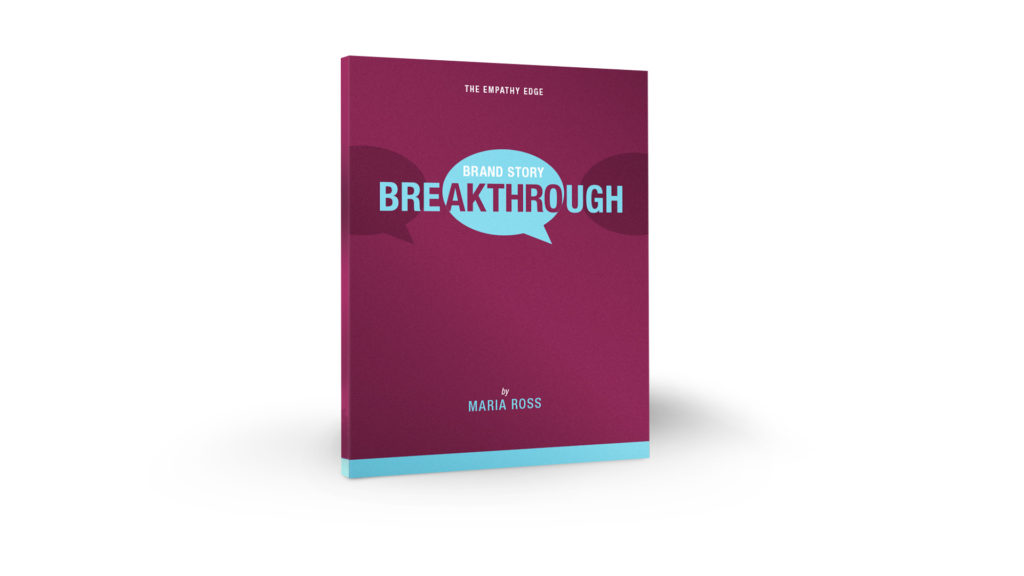 $9,297 value in a 5-week workshop
Cost Item
$297 5 empathy-focused playbooks
$3000 Weekly 1hr live brand strategy group coaching calls and private group discussion
$6000 Coaching on brand story messaging house, social profiles, and about pages

Additional Bonus!
Get 10 Questions to Help You Build Your Brand Strategy FREE
---
Curriculum
You'll get access to all videos and playbooks and can pace your way through for 5 weeks, in your own time.
Your time commitment: Set aside 1 hour for our live weekly coaching call to ask questions and get feedback and at least 2 hours a week for the videos and playbooks. Put in the work to reap the rewards!
Week 1
Know Yourself
Lesson 1: Your Why
Lesson 2: Manifesto
Lesson 3: Your Goals
Week 2
Know Your Customer
Lesson 1: Listen up
Lesson 2: Listen in
Lesson 3: Ideal Customer Profiles
Week 3
Know How You're Different
Lesson 1: Strengths and weaknesses
Lesson 2: Spy on Your Competition
Lesson 3: Brand Attributes & Vibe
Week 4
Build Your Messaging Platform
Lesson 1: Positioning What You Do
Lesson 2: Key Client Benefits
Lesson 3: Your Differntiators
Week 5
Putting it All Together: Final Story
Lesson 1: Core Value Proposition & Elevator Pitch
Lesson 2: Website "About"Page
Lesson 3: Company Descriptors and Social Media Profiles
---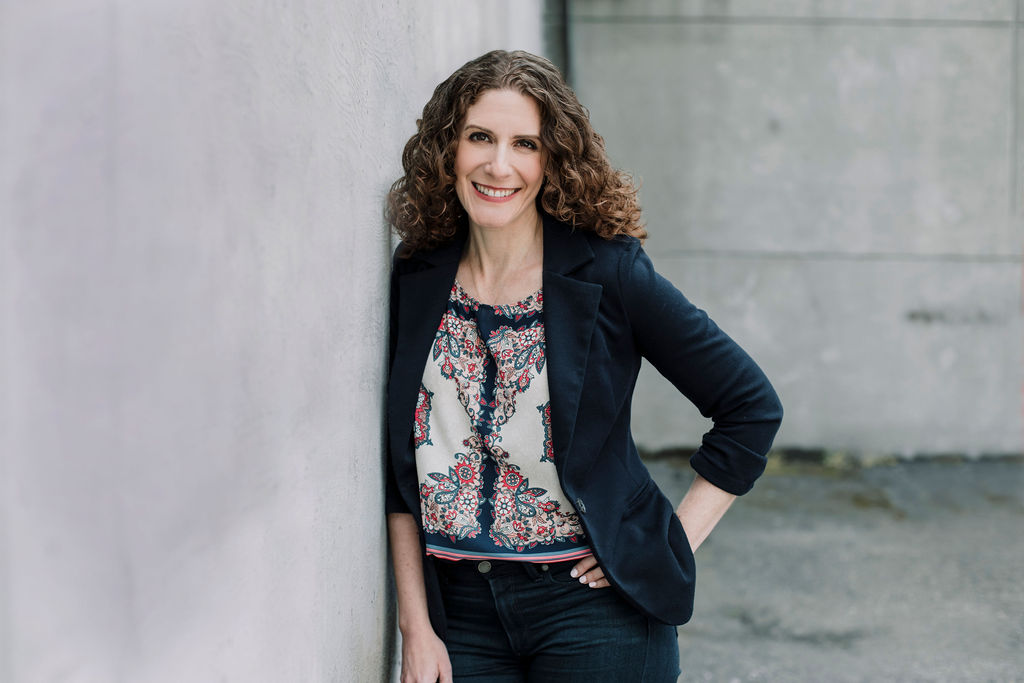 Meet Maria Ross
The empathy in business woman
My name is Maria Ross, and I'm a speaker, author, podcaster and the founder of brand consultancy Red Slice. I believe cash flow, creativity and compassion are not mutually exclusive. Entrepreneurs and fast-growth businesses come to me to create irresistible brand stories so they can stand out and better connect with customers.
Thousands of fast-growth companies, entrepreneurs, and small business owners have followed my advice to boost their brand and clarify their unique story. My books include The Empathy Edge and Branding Basics for Small Business. And I'm the host of The Empathy Edge podcast.
See, empathy is the key to brand success. And I understand the power of empathy on both the brand and personal levels: In 2008, shortly after launching my business, a ruptured brain aneurysm almost killed me and inspired my memoir, Rebooting My Brain.
Audiences ranging from The New York Times to BlogHer to Salesforce have loved my actionable advice and dynamic keynotes. I've been featured in and written for numerous media outlets, including MSNBC, NPR, Forbes.com, Newsweek.com, The Huffington Post and Entrepreneur Magazine.
Find Success, Help Others: Win WIN!
I am all about giving back, so when you sign up for Brand Story Breakthrough, you're not only investing in your success, you're helping others: 10% of your fee will go to the International Rescue Committee (IRC) helping refugees from Afghanistan and Ukraine, among other places, find security and support.