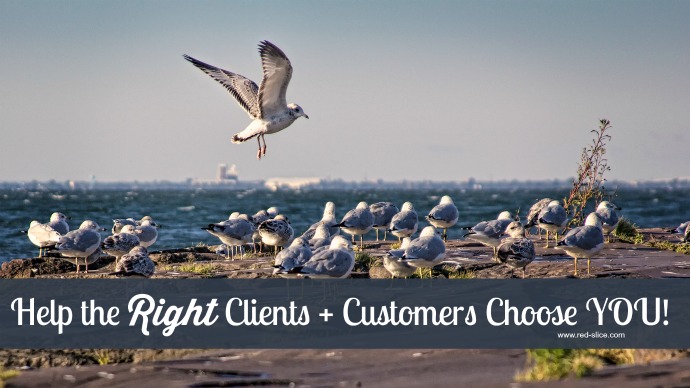 How much time do you waste fielding inquiries from, preparing long proposals for, or haggling endlessly with people who will never buy from you? Or worse, people with whom it's, quite frankly, a nightmare to work?
While you can create your ideal client personas and build your brand with intention, there is one extra step you can take to attract the right people into your orbit.
Define, articulate and share your unique philosophy.
What differentiates you is not just what you do, but how you do it. I wrote about this last week.
But, remember, while you get to choose your ideal customers and clients… your ideal fans also get to choose YOU. (Tweet This!)
So make it super easy for them to self-select and say, "Yes! I want to join your party!"
Publish your philosophy right on your website. Post it to a page, such as:
Our Philosophy
How We Work
Or, blend this into your biography or About page copy to create, what I lovingly call a "Bio-festo!"
Need some examples and inspiration?
Here's one we crafted with my amazing client, Renee Metty of With PAUSE.
Here's another from a client, Karen Ross and her fabulous coaching firm Start With You
And an awe-inspiring one for my client, Souldust.
When you take a stand and say, "This is how I roll!" you invite people in to either join your tribe or say, "Meh, this is just not for me. Thanks."
And that's okay. Because you will never create a strong, connective and beloved brand if you try to please everyone.  The best, most successful brands such as Apple, Starbucks and Virgin don't claim to be right for everyone, so why do you think that would work for you?
Take a stand. Be bold. Share your philosophy and approach.  It may not be right for some people, but wouldn't you rather spend your precious time and energy engaging with more of the right people, more often? It's not just an easier sales process, it's just more fun!
Photo Credit via Flickr