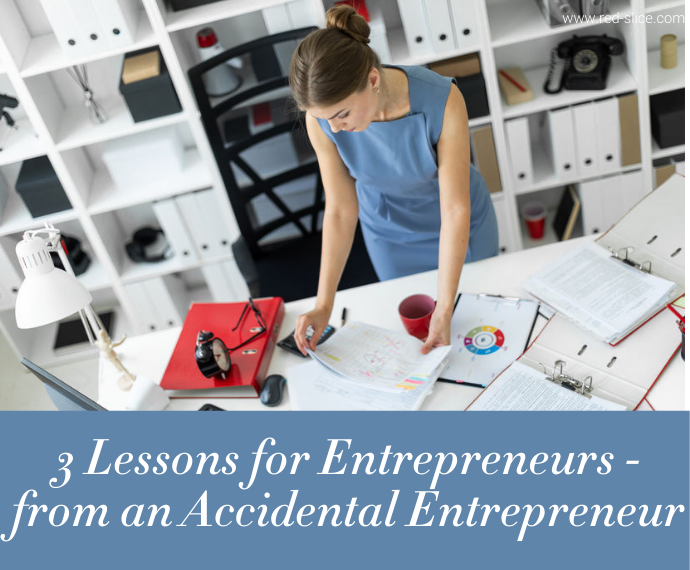 I never thought I'd own my own business. But here I am, just celebrating 14 years of Red Slice.
Whoa. It's the longest job I've ever had!
My corporate career was very successful and I was on a good trajectory. I liked getting regular paychecks, benefits, clear goals and metrics (most of the time!). I thrived on working in teams.
For those who want to know the nuts and bolts of how Red Slice came to be, check out this 3-part Behind the Scenes series from a while ago. In it, I shared a lot of very specific lessons at each phase.
In general, here are 3 lessons for entrepreneurs – hard-won advice from this self-proclaimed accidental entrepreneur!
Define Your Goal, Purpose, and Definition of Success. You cannot skip this step. YOu might roll your eyes at this advice, but let me tell you. I did not quite hammer this out – as I said, my entrepreneurial journey was not quite super mapped out. I did have a vague idea of what I wanted Red Slice to be – and ended up changing that vision 2 years later. You can always adapt and pivot. But start off with some kind of map of where you're going and MORE IMPORTANTLY, why are you doing it? What is your motivator? This will steady you through some storms as you move forward. And never let anyone else define success for you. What does success look like for you? For me, it was creating more freedom in my life. It wasn't about building a huge global agency. I was very clear on this from the beginning! In that respect, I have achieved immense success!
Don't Go It Alone: No one is an expert at everything. Starting out, it's super important to have a good bookkeeper/accountant and lawyer. Set things up the right way to save yourself headaches later. Sure, you have to be scrappy at first. I didn't hire my first virtual assistant until years into my business. And I paid the price in wasting a lot of time and doing things inefficiently. Know when it's time to pay someone else for their expertise so you can operate in your own zone of genius. Don't try to be a hero. When you need help, connections, referrals, advice – ASK! No smart business person will think any less of you.
Be Open to Change: What's that they say about change being the only constant?! Don't get so set in your plan that you miss out on opportunities – or that you make yourself miserable trying to make something work that just isn't. I adapted my business a few years in and was so glad I did. It was a risk, but it was a smart one and it paid off. If I'd held on too tightly to my original picture of what I thought my work would look like, I'd be super miserable and not half as successful as I have been. Never say never!
Entrepreneurship is hard, but it is such a journey of self-discovery. You get to know yourself, push your limits, and achieve your goals! (TWEET THIS!)